Heartland Dental Foundation announces advisory committee changes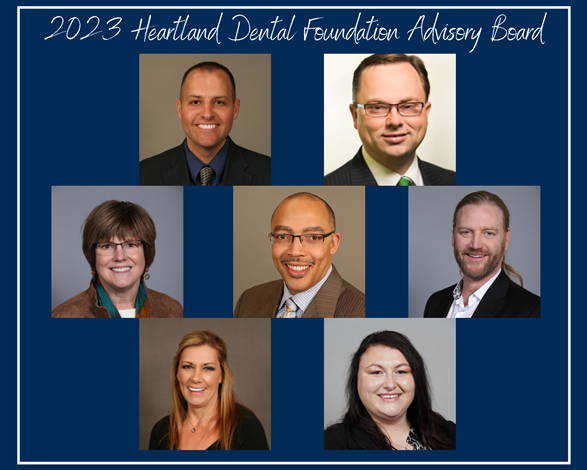 Top row: (l to r) Brandon Belford, Heath Hall
Middle row: (l to r) Julie Galloway, DMD, Leo Wheat, DMD, Gerald Benson, DMD
Bottom row: (l to r) Tarra Clark, Caitlyn Scheifer
The Southeastern Illinois Community Foundation is pleased to announce the Heartland Dental Foundation has elected a new Vice Chairperson and Treasurer and appointed new advisory board members. During the board's December 2022 meeting, the advisory board elected officers: Chairperson, Brandon Belford of Highland, Illinois, Vice Chairperson, Heath Hall of Kansas City, Kansas, and Treasurer, Julie Galloway, DMD of Saint Charles, Illinois. Newly appointed fund advisory board members include Dr. Julie Galloway and Caitlyn Scheifer of Irving, Illinois.
As of January 1, 2023, the newly elected and appointed Heartland Dental Foundation Advisory Board Members are:
Chairperson –Brandon Belford
Vice Chairperson – Heath Hall
Treasurer – Julie Galloway, DMD
Advisory Board Member – Leo Wheat, DMD
Advisory Board Member – Gerald Benson, DMD
Advisory Board Member – Tarra Clark
Advisory Board Member – Caitlyn Scheifer
At Heartland Dental's annual meeting, Winter Conference, two board members were recognized for their service. Outgoing Vice Chairperson and board member, Angie Workman, and outgoing Treasurer and board member, Wil MacLaren, were both honored for their instrumental service on the inaugural advisory board. Over the years Wil and Angie have led the Fundraising Committee and have helped raise over $560,000 for the Foundation.
The Heartland Dental Foundation Advisory Board is a committee of Southeastern Illinois Community Foundation that provides leadership and oversight over the Heartland Dental Foundation Funds. The Advisory Board has established the mission, vision and values of the Heartland Dental Foundation and creates strategic plans, sets goals and monitors the performance of each fund. It is also the Advisory Board's responsibility to generate ideas to create awareness and reach potential applicants. Board members also advise on fundraising strategies, including the development of marketing plans to internal and external audiences on the impact of Heartland Dental Foundation.
The Heartland Dental Foundation Economic Hardship Fund assists Heartland Dental supported doctors, team members and support professionals who are experiencing economic hardship and are unable to afford housing, utilities and other basic living needs because of a qualified disaster, serious or life-threatening illness or injury, death or other catastrophic or extreme circumstances beyond the individual's control. More than $500,000 in financial assistance grants have been provided to numerous Heartland Dental team members since the Foundation's inception in 2018. The Heartland Dental Foundation operates through generous donations, with 100% of gifts going directly to those experiencing hardship. The Community Foundation reviews employee assistance applications and makes all funding decisions, but the criteria for funding has been developed by the Advisory Board.