Heartland Dental Foundation announces advisory committee changes
Tuesday, February 2, 2021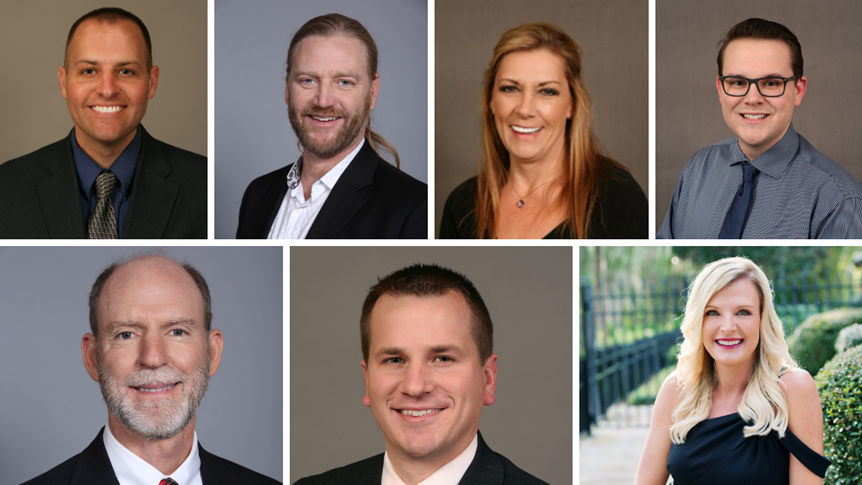 (Top Row, L-R) Brandon Belford, Dr. Gerald Benson, Tarra Clark, Wil McLaren
(Bottom Row, L-R) Dr. Richard Straus, Brandon Weber, Angie Workman
Southeastern Illinois Community Foundation is pleased to announce new advisory board members to provide leadership for the Heartland Dental Foundation. Newly appointed fund advisory board members include Gerald (Jerry) Benson, DDS, of Manassas, Virginia; Brandon Belford of Highland, Illinois; and Tarra Clark of Cocoa, Florida.
The Heartland Dental Foundation Advisory Board is a committee of Southeastern Illinois Community Foundation that provides leadership and advisement over the Heartland Dental Foundation Funds. The Advisory Board has established the mission, vision and values of the Heartland Dental Foundation and creates strategic plans, sets goals and monitors the performance of each fund. It is also the Advisory Board's responsibility to generate ideas to create awareness to reach potential applicants. Board members also advise on fundraising strategies, including the development of marketing plans to internal and external audiences on the impact of Heartland Dental Foundation.
During their December 2020 meeting, the advisory board elected officers: Chairperson, Richard Straus, DMD of Cape Girardeau, Missouri; Vice Chairperson Brandon Weber, Effingham, Illinois; and Treasurer Wil MacLaren of Knoxville, Tennessee. Angie Workman of Windermere, Florida, continues her service on the board.
Outgoing board members were recognized for their instrument service on the inaugural advisory board; they include Chairperson Stephen Foster, DDS, of Mt. Juliet, Tennessee, and Treasurer Robin Fowler of Tulsa, Oklahoma. Craig Kabbes of Effingham, Illinois, will remain active with the advisory board as an executive sponsor.
The Heartland Dental Foundation Economic Hardship Fund assists Heartland Dental supported dentists, team members and support professionals who are experiencing economic hardship and are unable to afford housing, utilities and other basic living needs because of a qualified disaster, life-threatening illness or injury, death or other catastrophic or extreme circumstances beyond the individual's control. The Community Foundation reviews employee assistance applications and makes all funding decisions, but the criteria for funding has been developed by the Advisory Board.
Dr. Jerry Benson is a Regional Doctor of Mentor Operations and delivers care to patients at Neibauer Dental Care. He has participated in providing dental care in all forms, including public health, institutional care, and private and group practice. Dr. Benson's passion for lifelong learning, public speaking, and teaching and mentoring others has led to participation in many educational groups, civic groups, and philanthropic organizations.
Tarra Clark is the Regional Support Administrator for Heartland Dental and resides in Coca, Florida. She has a passion for serving others and has volunteered in a variety of organizations, including those supporting the mental health and addiction. Tarra has operated a home for homeless female teens and is active as a member of UNICEF.
Brandon Belford is Vice President of Procurement for Heartland Dental. He has more than twenty-five years of supplier management and procurement experience in the aerospace, manufacturing and healthcare industries. Brandon received his MBA with a concentration in Supply Chain Management and a bachelor's degree in Information Management, both from Western Illinois University. He and his wife, Carrie, are very active with their children's sporting events, plays, and musical recitals, and have started and coached numerous teams through the years.
Heartland Dental Foundation is a program of Southeastern Illinois Community Foundation 501(c)(3) nonprofit organization. All gifts are tax-deductible to fullest extent allowed by law. Southeastern Illinois Community Foundation manages more than 160 affiliated funds for the immediate and long-term benefit of communities in southeastern Illinois. For more information, contact Amanda Lessley, President/CEO of Southeastern Illinois Community Foundation, at 217.342.4988 or amanda@enrichingourcommunity.org.