The Heartland Dental Foundation Announces Recipient of the Inaugural Service Award
Wednesday, December 21, 2022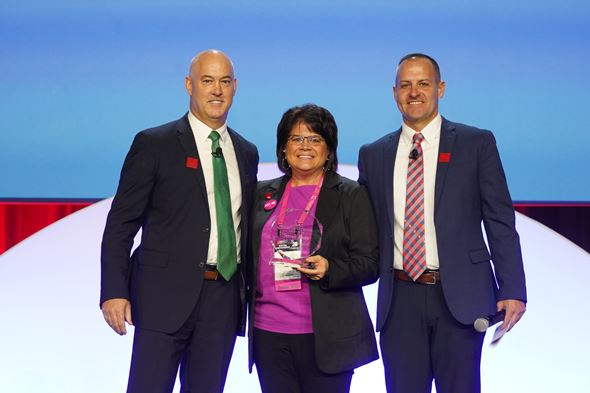 The Heartland Dental Foundation Announces Recipient of the Inaugural Service Award
Every year, Heartland Dental hosts their supported doctors, leaders and partners for the company's annual Winter Conference. Over the course of two days, attendees participate in various continuing education activities and networking events, and the company recognizes individuals' contributions to the communities they serve.

At this year's event, the Heartland Dental Foundation presented the inaugural Heartland Dental Foundation Service Award to Elaine Stock, Marketing Events Manager.
The Foundation was established in 2018 to assist Heartland Dental supported doctors and team members in their time of need, and the service award was created to honor individuals whose exceptional service to The Foundation has made a significant impact on the organization's overall welfare and the advancement of its vision and mission. This year's first-ever recipient was selected by the Heartland Dental Foundation's Advisory Board and the award was presented by Craig Kabbes, Chief Information Officer at Heartland Dental and Executive Sponsor of the Heartland Dental Foundation and Brandon Belford, Vice President Strategic Sourcing at Heartland Dental and Chairperson of the Heartland Dental Foundation.
Over the years, Elaine Stock has played a pivotal role in the success of the Foundation. Her consistent, exceptional, and meritorious service has helped The Foundation aid supported offices, families, and communities across the country. She also helped organize the Foundation's first mission trip this year at the Mission Lazarus campus in Jayacayan, Honduras.
The Heartland Dental Foundation Service Award will be an honor bestowed upon team members, supported doctors, or friends of the Heartland Dental Foundation in years to come.