Heartland Dental Foundation Announces Advisory Committee
Tuesday, September 3, 2019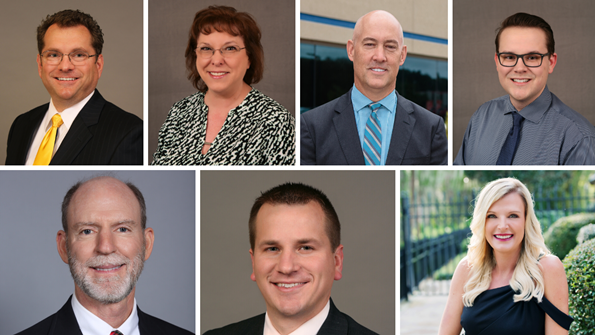 (Top Row, L-R) Dr. Stephen Foster, Robin Fowler, Craig Kabbes, Wil MacLaren 
(Bottom Row, L-R) Dr. Richard Straus, Brandon Weber, Angie Workman
Southeastern Illinois Community Foundation is pleased to announce that it has established an advisory board to provide leadership for the Heartland Dental Foundation Funds. The newly appointed fund advisory board includes Dr. Stephen Foster, Dr. Richard Straus, Robin Fowler, Wil MacLaren, Brandon Weber, Craig Kabbes and Angie Workman. During their inaugural meeting in June, Dr. Foster was named chair of the fund advisory board.
The Heartland Dental Foundation Advisory Board is a committee of Southeastern Illinois Community Foundation that provides leadership and advisement over the Heartland Dental Foundation Funds. The Advisory Board has established the mission, vision and values of the Heartland Dental Foundation and creates strategic plans, sets goals and monitors the performance of each fund. It is also the Advisory Board's responsibility to generate ideas to create awareness to reach potential applicants. Board members also advise on fundraising strategies, including the development of marketing plans to internal and external audiences on the impact of Heartland Dental Foundation.
The Heartland Dental Foundation Economic Hardship Fund helps Heartland Dental supported dentists, team members and support professionals who are experiencing economic hardship and are unable to afford housing, utilities and other basic living needs because of a qualified disaster, life-threatening illness or injury, death or other catastrophic or extreme circumstances beyond the employee's control. The Community Foundation reviews employee assistance applications and makes all funding decisions, but the criteria for funding has been developed by the Advisory Board.
For 33 years Dr. Stephen Foster has practiced as a general dentist in Mount Juliet, Tennessee. He and his wife, Kathy, have three children. Throughout Dr. Foster's career he has been involved with various civic and community organizations. He is also passionate about dental and medical missions. He is a general practitioner at Pleasant Grove Dental and serves as a mentor dentist. Dr. Foster is looking forward to serving as the Heartland Dental Foundation Chair.
Dr. Richard Straus is a Regional Doctor Mentor of Operations with Missouri Dental Professionals, P.C. in Cape Girardeau, Missouri. He delivers care to patients at Cape Girardeau Dental Care. Dr. Straus has served on numerous charitable boards and looks forward to being a part of the Heartland Dental Foundation. "It is a great honor to have been asked to serve on the inaugural Advisory Board of the Heartland Dental Foundation," remarks Dr. Straus. "It provides an opportunity to have a direct and lasting impact on those team members with whom we work and to whom we owe so much in their critical time of need." He and his wife, Julie, have five children, two daughters-in-law and two grandchildren.
Robin Fowler is the Regional Support Administrator for Heartland Dental and resides in the Tulsa, Oklahoma area. After attending University of Oklahoma with an accounting degree, Robin worked in the banking industry for several years before joining the accounting department at Berkshire Dental Group. Robin and her husband, Jerry, have a son and daughter as, well as a son-in-law.
Wil MacLaren, III has worked for Heartland Dental for seven years and is currently a Regional Manager of Operations in Knoxville, Tennessee, supporting dentists and their teams throughout the southeast. He enjoys the opportunities to give back to his local communities through organizations and events such as Free Dentistry Day and My Free Smile.
Brandon Weber was born and raised in Effingham, Illinois, the home of Heartland Dental. After graduating from Eastern Illinois University with a degree in Business-Finance, he worked within various roles in the Financial and Stockbrokerage sectors throughout the United States, before returning to Effingham in 2012 to accept a role within the Development & Real Estate support arm of Heartland Dental. Brandon and his wife, Allie, have two young children, Griffin and Karsyn. Brandon also sits on the Ethics Commission for the City of Effingham and chairs his local country club's Golf Committee.
Craig Kabbes is a technology executive with over thirty of years of experience in healthcare companies. He is currently the Executive Vice President of Technology and Patient Services for Heartland Dental. Craig and his wife, Tess, are very active in the Effingham community, church and schools. As part of his local involvement, Craig previously served on the Southeastern Illinois Community Foundation governing board.
Angie Workman first learned about Heartland Dental when she accepted a position at Macomb Dental Center after graduating from the University of Missouri in 1994. She married Dr. Rick Workman in 1997 and resigned in 1998 to focus on their growing family. Angie has always supported Heartland Dental, as well as the communities of Effingham and now Windermere, Florida, with many volunteer hours and charitable endeavors, including the Workman Sports and Wellness Center. Angie is very excited to help grow and support the Heartland Dental Foundation.
Heartland Dental Foundation is a program of Southeastern Illinois Community Foundation 501(c)(3) nonprofit organization. All gifts are tax-deductible to fullest extent allowed by law. Southeastern Illinois Community Foundation manages more than 140 affiliated funds for the immediate and long-term benefit of communities in southeastern Illinois. For more information, contact Amanda Lessley, President/CEO of Southeastern Illinois Community Foundation, at 217.342.4988 or amanda@enrichingourcommunity.org.